Deep Pour Epoxy Coverage Calculator
The Epoxy Coverage Calculator determines how much epoxy resin is needed for Deep Pour River Tables, Art & Casting resin, and thick pour projects.
For coverage for our bar and table top epoxy, please visit our Bar & Table Top Epoxy Calculator.
Desired Thickness (inches)
Total Volume of Project:
in³
---
Recommended amount of Epoxy
*Important Disclaimer: The results of this calculator are to be used only as estimates and are not intended as definitive advice or as resource applicable to any specific circumstance and should not be relied upon or used as such. UltraClear Epoxy cannot guarantee that you will achieve proper results without verifying your measurements and assumptions. To verify product amounts, contact us and we will help you find exactly what you need.
Deep Pour Epoxy Calculator
The results of this calculation are based on a 1.5 gallon kit of deep pour epoxy covering 10 square feet at 1/4" thick. We highly recommend that you pre-seal wood, live-edges, and substrates with UltraClear Bar & Table Top Epoxy (let cure) to prevent air bubbles or foaming prior to final deep pour.
When embedding objects in epoxy such as rocks or pieces of wood, less epoxy would be needed due to the amount of displaced area that is taken up by the embedded objects. We recommend keeping this in mind when considering the results of the deep pour epoxy calculator.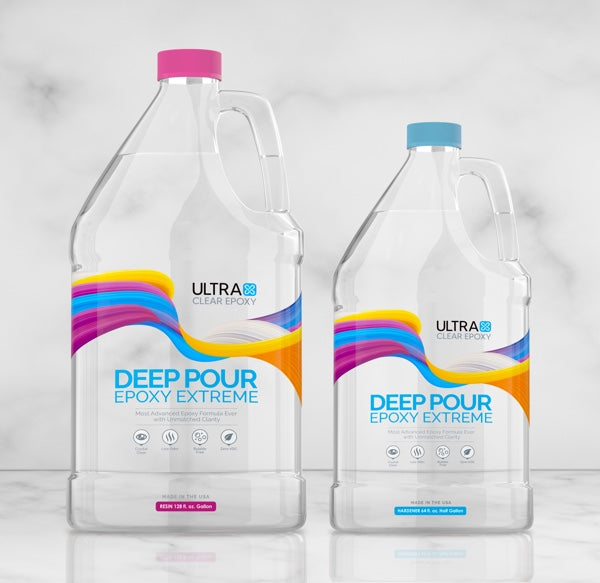 Deep Pour Epoxy vs. Bar & Table Top Epoxy
Deep Pour Epoxy is used to embed object, fill voids, create flowing rivers of colors with different designs, all while maintaining that crystal clear clarity that's made epoxy tables so desirable over the years. Deep Pour Epoxy resin should be used when pouring depths of 1/4" up to 2" in a single pour, multiple pours up to 6" thick, and casting projects.

Bar and Table Top Epoxy is designed as a top coat sealer for surfaces of 1/8" to 1/4" maximum depth. While each one is used for different applications, they both work together perfectly for projects like river tables, charcuterie boards, or any surface that has a deep pour epoxy section in it.

The Deep Pour Epoxy cures slightly softer overall than the Bar and Table Top Epoxy, so it needs a top coating layer of protection when it's going to be used as a surface. This is where the Bar and Table Top Epoxy comes in as it provides the ultimate layer of durability and a glass like finish.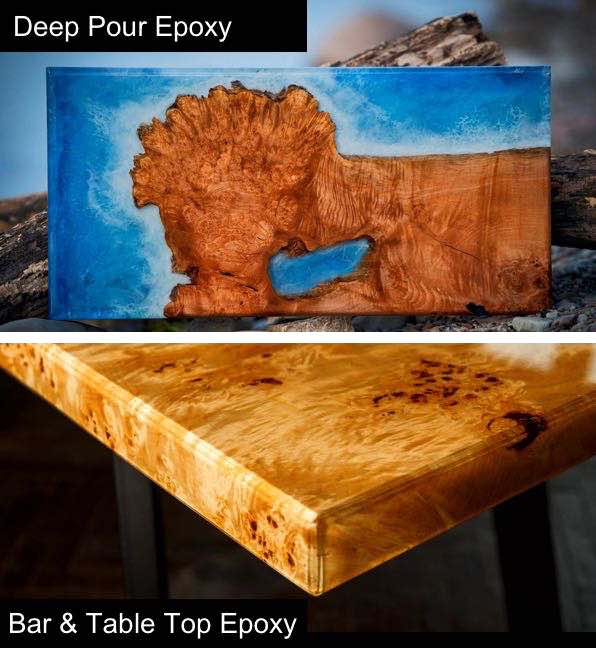 How to Embed Objects in Epoxy
Virtually any object can be encased in our Deep Pour Epoxy. Objects like wood, stones, or anything else that is porous will need to be seal coated first with our our Bar and Table Top Epoxy before embedding them into the Deep Pour Epoxy. This is to prevent the objects from releasing tiny air bubbles into the Deep Pour. This same seal coat will also need to be done to any areas of exposed wood that will be in contact with the Deep Pour Epoxy, such as the inside edges of a river table for example. The Deep Pour Epoxy will bond to the seal coat of the Table Top Epoxy, and prevent the wood from releasing air bubbles.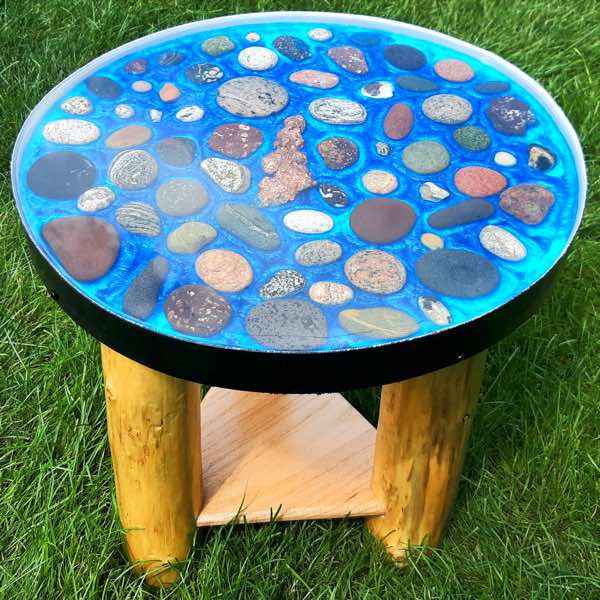 ---